Delhi: In 48-degree Torture, Lazing Indoors Not Such A Bad Thing | Delhi News
NEW DELHI: As heatwave conditions intensify in and around the capital, doctors advise people to stay indoors. In the past few days, a number of people were rushed to hospitals with heat exhaustion, stroke and severe dehydration, they added.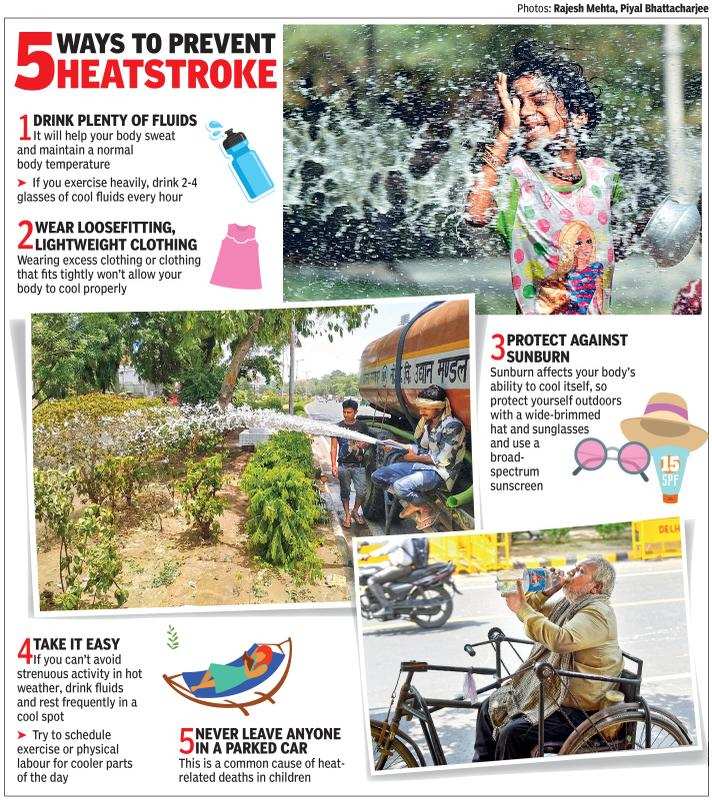 The human body fights extreme heat by sweating. In heat conditions, the body cannot dissipate enough heat leading to quickened metabolic activity, a doctor explained. "The danger mark for a possible heat stroke is around 104 degrees Fahrenheit, but could be lower in vulnerable groups such as diabetics, elderly and children," he added.
Dr R K Singal, head of medicine department at BLK Hospital, said, those working in the fields are most susceptible to a heat stroke as they are exposed to high temperature for a longer period.
"A heat stroke is a medical emergency, and the affected people need to be rushed to hospital immediately for proper treatment," he said. The stroke is essentially the failure of the body's temperature control system and affects the nervous system, said Dr R N Kalra, medical director, Kalra Hospital.
"Due to a prolonged exposure to heat along with high body temperature, affected persons may have increased heart rate, cramps, headache, loss of consciousness, and seizures. If not given immediate medical attention, it can be life-threatening," he added.
Dr Rommel Tickoo, senior consultant, internal medicine at Max Saket, said one should avoid strenuous work, including exercises, during the warmest parts of the day.
"The best way to identify the symptoms is when you feel weak or have a dry tongue or have cramps in your legs. One should run for shade and have a lot of liquids to avoid serious consequences," the doctor advised.
Dr Gaurav Jain, senior consultant, internal medicine at Dharamshila Nayana Super Specialty hospital, listed a few symptoms people can look out for — lack of sweating, headache, red and dry skin, vomiting, among others. "For the past two days, we have witnessed around 10-12 patients affected by heat stroke being rushed to the hospital. We advise people to drink plenty of water, coconut water and fresh fruit juices," he said.
Also, one should avoid a sudden change in temperature. The tendency of people walking straight out of air-conditioned rooms and cars into the heat or gulping cold drinks to beat the heat is harmful, he added.
In Video:Delhi experiences severe heatwave conditions as Palam records 48°C on Monday