Delhi Temperature: Palam At 48°c On Monday, Hottest Day In 21 Yrs | Delhi News
NEW DELHI: Air-conditioners failed and roads melted at several places as Delhi suffered through its hottest day in over two decades on Monday, with the mercury at Palam hitting 48 degrees Celsius - the highest temperature ever recorded anywhere in the city in June.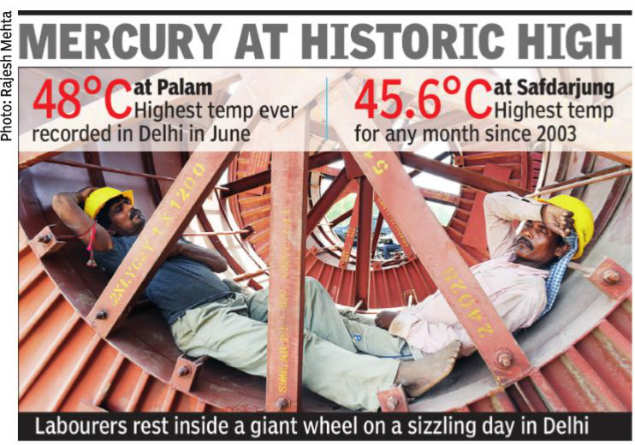 It was a day for the weather record books. Monday's maximum at Palam was just 0.4 degrees lower than the city's highest ever temperature of 48.4 degrees C, also at Palam on May 26, 1998. Elsewhere in NCR, Gurugram baked at 46.8 degrees C.
The severe heat wave conditions were a result of searing hot and dry westerly winds sweeping in from Rajasthan. "The westerlies added to the heat generated by the sun, which is almost overhead at this time of the year. Also, the region hasn't been affected by any western disturbance since mid-May. All three factors played a part in raising temperatures to a record high on Monday," said Kuldeep Srivastava from IMD.
The heat wave is likely to persist on Tuesday, although temperatures could be a degree or two lower, said Srivastava. The region can expect a brief respite from Wednesday, when moist winds from the Arabian Sea are likely to reduce temperatures and increase chances of light rain.
"Increase in wind speed is expected to bring the high maximum temperature down a bit. On Wednesday, there is a possibility of light rain along with dust storm or thundershower. After that no heat wave is expected till 16," an official said.
In Video:Delhi experiences severe heatwave conditions as Palam records 48°C on Monday