Litmus Test For Kolkata Cops As Bjp Hits Streets Today | Kolkata News
KOLKATA: The confident BJP camp in Bengal is now taking its political fight from the districts right to the power corridors of Kolkata. Party sources claimed that the city's key points — like Sealdah and Howrah stations — are likely to choke on Wednesday as they expected nearly 1 lakh people to assemble at these locations for a march till Lalbazar.
The main meeting is expected to begin around noon at Subodh Mullick Square. The BJP leadership remained tight-lipped about their plans but sources claimed that the show of strength is likely to send out a strong message that the party cannot be seen as a pushover in the city. Political pundits said the 2017 Lalbazar gherao by BJP was a wakeup call for police.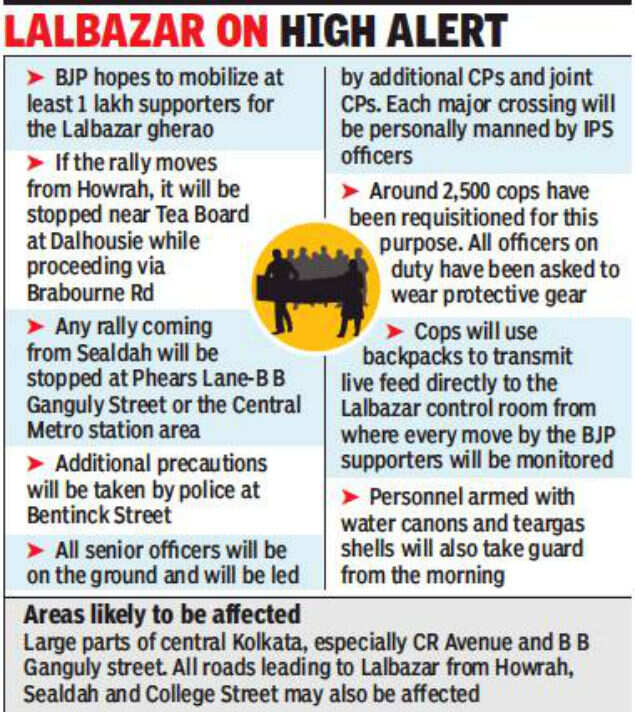 "In a space vacated by the Left, which had for decades played a cat-and-mouse game with cops in the lanes and bylanes of this city before assuming power, the BJP will be eager to show that they can not only fit into its shoes but also the fact that they enjoy support even on ground as they push the accelerator in their bid for power," said a political scientist from a leading government college in Kolkata.
Kolkata Police, too, are leaving nothing to chance. However, they are keeping their plans under wraps. "All we can say is that we will have adequate presence on the ground. We will not reveal our strategy for obvious law and order implications," an IPS officer from Lalbazar said.
Police sources, though, asserted that blockades will be put up at all major crossings and these will be overseen by assistant commissioners. Several top officers, including deputy commissioners and joint commissioners, will be on the ground. Apart from the nine possible entry points to Lalbazar, there will be police surveillance across 19 bylanes. Personnel armed with water canons and teargas shells will also take guard from the morning. However, the police have been instructed not to go "overboard" in order to stop the rallyists.
Police have received inputs that the BJP supporters will be marching mainly from the BJP headquarters. However, cops have sanitized at least five different routes towards the headquarters of the Kolkata Police at Lalbazar. There will be security barricades at the intersections on Bentinck Street.
Similar barricades will be put up on roads that connect Lalbazar with Chittaranjan Avenue. Cops will be using backpacks to transmit live feeds directly to the Lalbazar control room from where every move by the BJP supporters will be monitored.