Delhi: Auto Fares Raised By 18%; Additional Charge For Jams | Delhi News
NEW DELHI: Your auto-rickshaw rides just became costlier, with the Delhi government on Wednesday issuing a notification raising fares by more than 18%.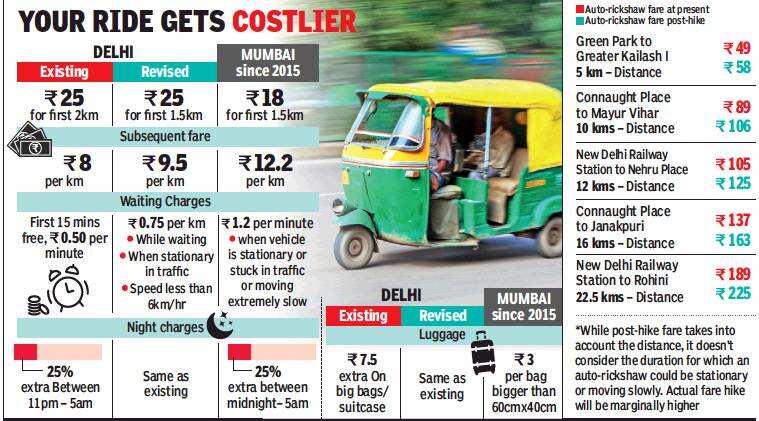 According to the new fare structure, commuters will have to pay a base fare of Rs 25 for the first 1.5km and Rs 9 for each km travelled thereafter. To ensure that auto-rickshaws do not refuse to go on the routes that are clogged or witness regular traffic congestion, the government has also decided to let drivers charge an additional 75 paise for each minute that the vehicle is stuck in a jam or moves at speeds less than 6 kmph.
Till now, commuters paid Rs 25 for the first 2km and Rs 8 per km for the subsequent ride. There were no additional charges for waiting at traffic junctions or for slow-moving traffic.
Auto fares in Delhi were last revised in May 2013 and the unions had been demanding a revision for a long time. A nine-member committee was formed by the Delhi government to make recommendations on fares for autos and other modes of transport. It looked at the existing rates in Mumbai and also considered rising fuel and maintenance costs as well as inflation before finalising the new rates.
No fresh nod from LG needed, new auto fares take effect today
The revised fares were approved by the Delhi cabinet in March this year but could not be notified due to the code of conduct for the Lok Sabha elections. It further got delayed when the transport department asked the Delhi government to take approval from the lieutenant governor. The then-law secretary was of the view that the competent authority defined under the motor vehicle act was the lieutenant governor.
The notification was issued on Wednesday after a fresh observation made by the law department that as per the Supreme Court's verdict of July 4, 2018, the LG was only required to be kept informed about all decisions of the council of ministers.
"Since the transport commissioner had informed the LG about the cabinet decision on auto fares last month, no fresh approval was required from him," said an official. The approval of the Delhi cabinet and the directions of the transport minister were "enough for the issuance of notification".
Delhi transport minister Kailash Gahlot said auto-rickshaws will be allowed to charge the increased tariff with immediate effect. "While the revised tariff will start reflecting in fare meters only after these are recalibrated by the weights and measures department, which may take some time, the auto drivers can carry a card with the old and revised fares," Gahlot said.
Delhi has close to one lakh autos and recalibration of the meters will be done in phases, which may take some, said an official.
According to officials, the government may also revise the fare of taxis, gramin sewa and RTVs in the next few weeks.
In Video:Auto fares raised by 18% in Delhi