Are You Ready For Rains? Because Delhi Isn't | Delhi News
NEW DELHI: While the deadline to clear the drains of silt is barely a week away, the municipal corporations and Public Works Department, which maintain the drains, are still some distance away from meeting the targets, claiming that 10-25% of the work remained and this would be finished in the next 10 days. A random spot check by TOI, however, showed that these claims were exaggerated.
While the three municipalities had scheduled completion of the unclogging of the drains under their jurisdiction by June 15, Delhi government had designated June 20 for PWD to finish clearing the arterial drains in its care. PWD looks after 1,034 major drains and cleaning these is critical because most of the corporation drains have their outfall in them. A PWD official overseeing the work said, "We focused on clearing the bigger drains and even though 25% seems a lot to accomplish in the last nine days of the deadline, the remaining work involves small drains."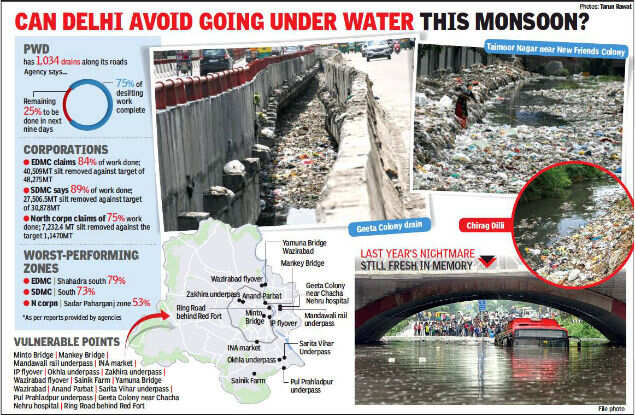 The east corporation claimed to have finished 84% of the desilting. The south body said it had met almost 90% of its target so far, and in its last report, the north corporation declared it had accomplished 75% of the scheduled work. The worst performing zones in each corporation are City-Sadar Paharganj in the north with 53.9% work done till May 30, south zone under SDMC with 73% clearance and Shahdara (south) in the east with 79% of the drains desilted.
Perhaps, why the city suffers flooding every year despite claims of cleared drains has to do with the assessment methods. "The targets are fixed with the aim of maintaining free flow of water," a civic official clarified. "But if we dig too deep in the drains, the water becomes stagnant. The target, therefore, is not to remove all the silt, only enough to allow water to flow."
Another official pointed at "floating material" as the biggest problem. "The drains passing through densely populated areas have massive floating garbage thrown in by the residents," the official said. "The only solution is to cover and barricading such drains. The Najafgarh drain is a prime example."
However, as Mohammad Irteza of Taimur Nagar in south-east Delhi, observed, this might not be the ultimate solution. Talking about the clogged drain in his locality, Irteza said, "A wall was constructed along the drain last year to deter people, but they still throw garbage into it. As for the government, it thinks of the drain's condition only before the rains."
TOI's assessment of the major drains in Geeta Colony, New Friends Colony, Taimur Nagar, Sadiq Nagar and Chirag Dilli, indicated this year may not be any different from earlier. The water channels were filled with trash, prognosticating flooding and waterlogging.